PLANNING FAMILY GALLERIES
Relatively little is known about family learning in art museums, despite the fact that more than 90% of art museums nationwide offer specialized programming for families (Wetterlund & Sayre, 2003). In addition to the specialized programming, increasing numbers of art museums are targeting families through dedicated interactive galleries, intended to "hook" parents and children into the museum and offer them a place to explore and to engage and interact with each other around works of art (Adams & Luke, 2005).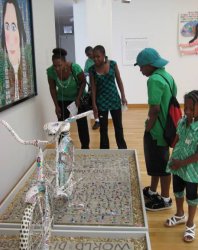 Each of the lead museum educators for the three interactive galleries in this project
Frist Center for the Visual Arts
(Nashville),
High Museum of Art
(Atlanta), and
Speed Art Museum
(Louisville) reflected on their conceptualization process, the work on constructing the galleries, and their ongoing process of implementation, maintenance, and envisioning new work for the future. These reflections can be found in the section
Creating Interactive Galleries
.